'Escape the Bubble' is a wee slice of something going on outside of our wonderful town, if you ever feel like you want to explore further afield. In this article, we look at an Exhibition that one of our writers visited in London, this past summer.
The Royal Academy Summer Exhibition could be considered to have marked the beginning of Britain's summer for 247 years. Blending tradition with the forefront of contemporary art, the Summer Exhibition brings amateur and professional artists alike to the walls of Britain's oldest artistic institution. Curated by Michael Craig-Martin (RA), this year's vibrant Summer Exhibition included the transformation of the Academy's traditional white walls into a 'riot of colour.' The exhibition presented a bold illumination of a life in colour, highlighting the ways in which we encounter the world visually.
Breaking from the bustling crowds of Piccadilly, visitors enter the Annenberg Courtyard, occupied and transformed by Conrad Shawcross's installation 'The Dappled Light of the Sun.' It's geometric branches dapple the ground in a lattice-work of silhouettes. Its steel structural form engages with the space it inhabits and passers-by. In the entranceway of Burlington House, we became dazed by Jim Lambie's mesmerizing, rainbow staircase. Upon ascending the psychedelic ladder, we reached yet another space in which our traditional perceptions of 'gallery space' are altered.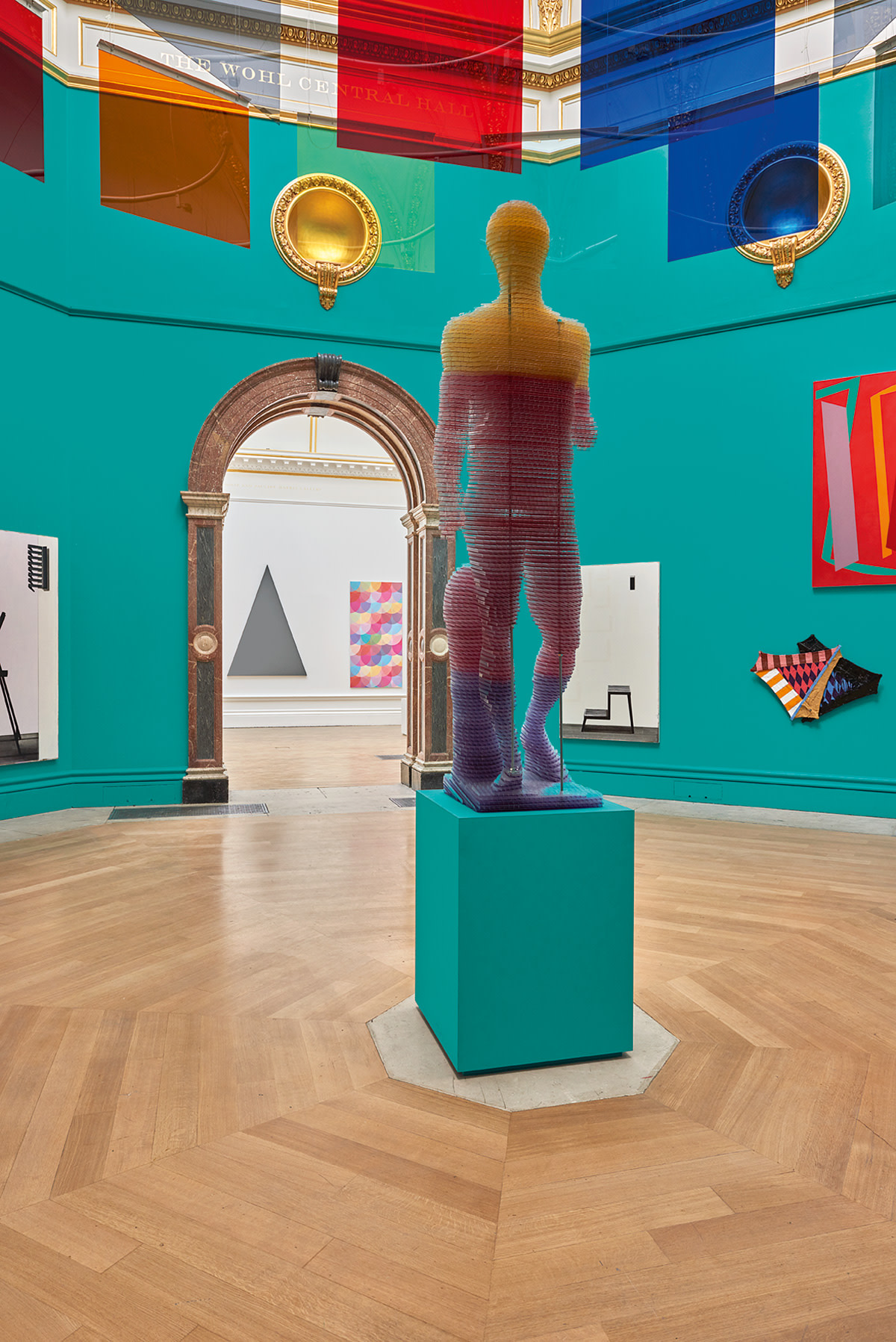 Looking up in the Wohl Central Hall, 'Applied Projection Rig,' casts shadows and reflections in various hues upon the ceiling, a sculpture consisting of a double corona of 24 panels of suspended coloured pexiglass. amid a turquoise room. The Lecture Room, to the right is painted a light blue – while Gallery III, is electrified by an intense magenta. The vast exhibition spaces – 14 in total – are filled to capacity – a modern day example of what was traditionally coined the 'Salon Style' where art was systematically packed to the rafters.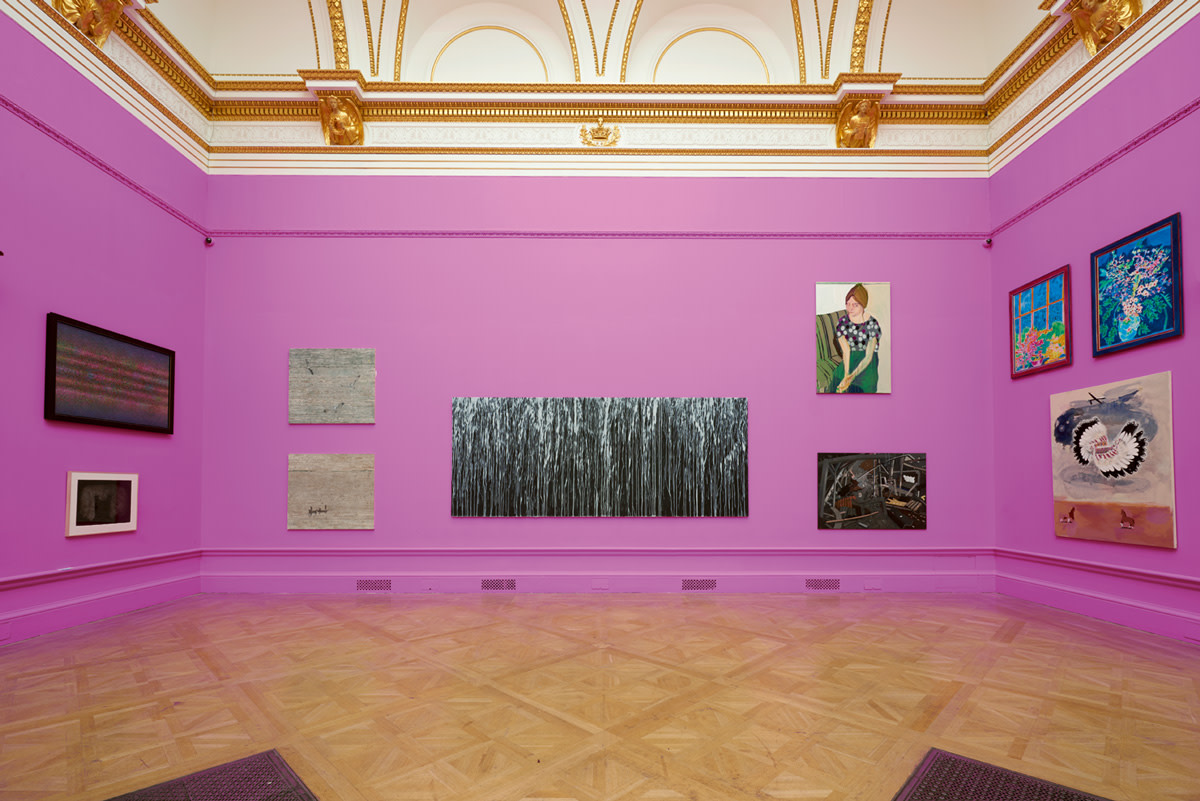 The works are not titled or named and there is no conceptual vision driving the gallery layout. This conceptual ambiguity allows the viewers to interpret and discover the exhibition through their own senses, avoiding being tainted by any preconceived ideas. Too often, we enter a gallery and look for meaning in a work based on what we understand to be the notions of the choreography of the gallery – and by doing so we fail to grasp a basic understanding of the work through looking.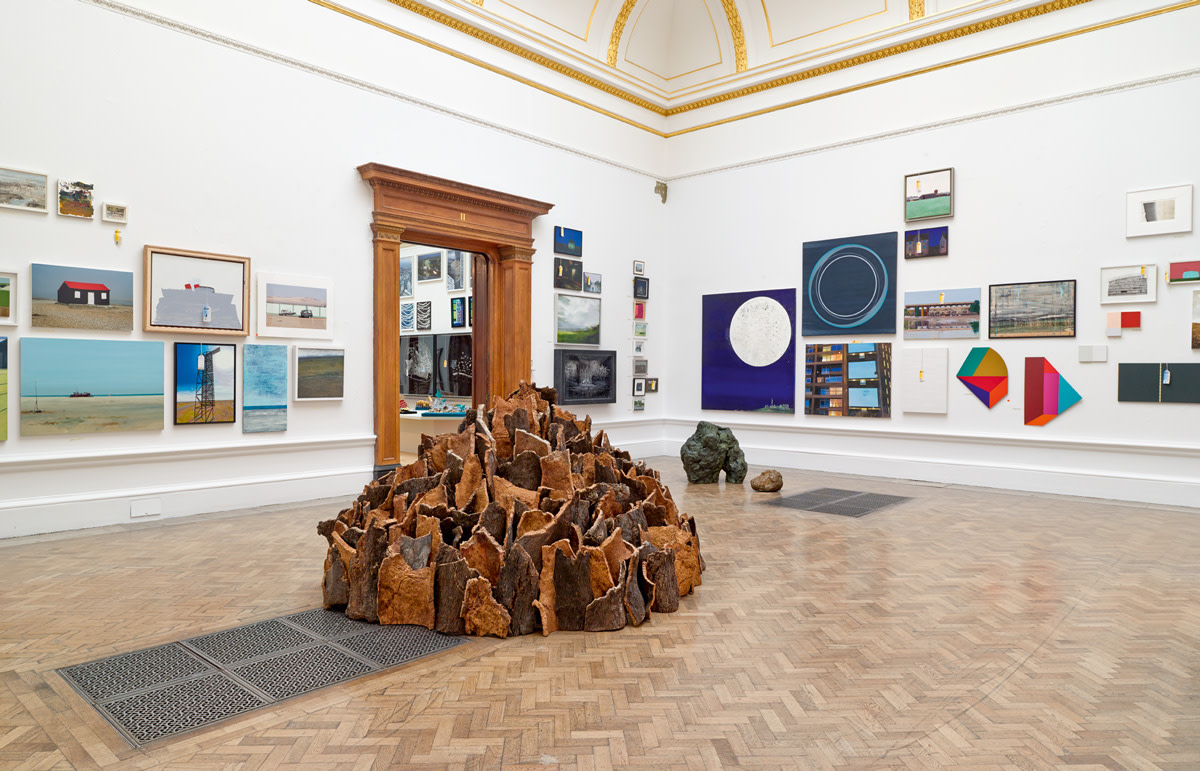 Art forms included prints, drawings, sculptures, photographs and architectural models – which covered the walls at various levels, and fill the floor spaces of the gallery. The works deviate from the traditional concept of painterly skill and realistic imagery, and rather move into the realm of the suggestive, abstract and concept. Toying with ideas of form, structure, colour, light, texture, culture, the abstract, natures elements, and our engagement with space – focusing on the things that usually go unseen and unnoticed – the conceptual, or narrative – in a world where the visual is increasingly used as a form of communication and knowledge, rather an object of visual experience.
As we leave Burlington House and remerge on the streets of London, we become more acutely aware of our surroundings, able to be discovered and experienced through our vision. For this is the unique role of the Summer Exhibition – "to offer its visitors a master class in looking, and the distinctiveness of visual knowledge that inspires us to rediscover the world around us."
Photos courtesy of The Royal Academy
Comments
comments