With the prospect of spring becoming a far off dream, I've taken it upon myself to persuade the weather to change. I was faced with two options in this venture:  a) a reverse rain dance in market street… maybe not or b) swapping my winter jacket for an alternative (any excuse to shop).
And what might this mystical jacket be you ask?
It is none other than the silky, luxuriousness of a bomber jacket. Though this change might not be as optimistic as it first appears, I promise that you will not be able to hear your teeth chattering in this jacket (and that's not just because you won't hear them over the compliments). As part of the sports luxe trend it is inevitably practical: warm, cosy, and comfy.
I was reluctant at first, when I spied this oriental inspired silky bomber jacket on ASOS. However a friend who is a bomber jacket devotee, brandishing a stunning metallic puffy number that would leave me quaking with nerves if I were to wear it, talked me into it.
My advice would be to start small with a simple block colour, slim fit jacket, maybe risking a slight printed sleeve. Pair it with jeans and a t-shirt, keep things simple. Just get used to the unrestricted movement of this jacket, which after months in a woollen trench coat can be somewhat startling.
As you advance invest in an all over print, such as the River Island monochrome jacket. Offering only a hint of colour it makes you noticeable but not brazen, and is perfect for walking to lectures. The three quarter sleeves provide the opportunity to merge it with the classic St. Andrews preppy style, with a jumper or cardigan sleeve sticking out of the jacket.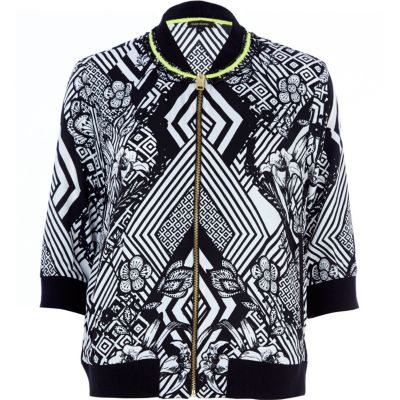 The final step is all over metallic print. Don't be afraid. While this might seem a daunting challenge at first, soon you'll think nothing of donning this Topshop jacket with a black mini or denim shorts for a sinners night.
Simply wear this jacket with the confidence of an Olympic athlete and you'll see compliments fly in all evening. Don't forget the humble bomber jacket started out life as a sports jacket after all.
Comments
comments